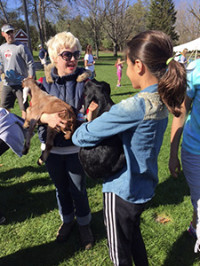 ART HOP May 6
Please come join us as we celebrate Spring and one another at the 300 block of N. Burdick between Eleanor and Kalamazoo Ave!
Good music and great art. Click for flyer.
AACORN enjoyed the 2016 Autism Walk. We were excited to join our community to support our Kalamazoo families who are connected to individuals with Autism. It was a beautiful day—a great day to hold a baby goat!
Interesting book:
Tracey Cohen was diagnosed with Asperger syndrome at age 39. On March 17, 2015 she published her first book, Six Word Lessons on Female Asperger Syndrome.

This book was written to educate and inspire individuals, families, professionals, anyone willing to learn and draw awareness to Asperger syndrome/Autism especially the differences between males and females. So many are missed in diagnosis and never receive any help or support.  

Take a look at her book page http://www.growingupautistic.com/tracey.html which has links to interviews, book reviews and more. Pass the information along to anyone you think might benefit/have interest. 

Tracey resides in Farmington Hills and can be a resource/of service to you.