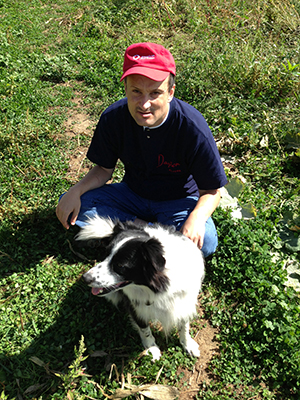 If you can't find the question you wanted to ask, don't hesitate to contact us.
What does AACORN stand for? AACORN stands for "Adult Agricultural Community Option for Residential Needs."

Where is AACORN FARM located? AACORN currently rents space at Lake Village located in Kalamazoo county, Michigan.

I thought today's philosophy was an inclusive model for individuals with autism. Doesn't a farm keep people isolated? Not if we are intentional about keeping our ties with the community. This can be accomplished in many ways, but first the individual must feel safe and supported in his/her home and environment. Residents who come to live at AACORN Farm will not be "placed" here. Instead, the individual with a disability along with their family and friends will make visits to the farm, explore what opportunities would excite them about living on AACORN Farm, and ultimately the individual will make it known if s/he wishes to apply to join the AACORN Farm community. As for the question of isolation, AACORN Farm seeks to create a farm that welcomes community members to come work, live, learn and farm with us and be part of our lives. We support AACORN Farm residents in being active participants in the local community by attending events, visiting the library, going to the movies, going shopping, taking classes, visiting friends and family along with any other activity that they choose. It is also a goal of AACORN Farm to create Community Supported Agriculture (CSA) opportunities and to participate in local Farmers Markets and craft shows.

Why will AACORN Farm be exclusive to adults with autism? Why not include people with other disabilities? AACORN Farm will also be open to people with disabilities similar to autism, but in general, there are currently fewer options for this population. Individuals within the autism spectrum have unique needs or characteristics that may not be shared by those with other disabilities, such as the need for a well-structured and predictable routine, the tendency for "sensory overload," and challenges with forming relationships and communicating effectively. Schools have come a long way in meeting these needs in children, but there are few, if any, resources for adults with autism once they leave school at age 26. Opportunities for appropriate residential, vocational, and recreational programs designed to meet the needs of adults with autism are limited to a handful of facilities in the country. AACORN Farm will exist to give adults with autism (and related disabilities) and their families more and better choices.

Why is an agricultural community a good place for an individual with autism to chose as their place of work and/or their home? Meaningful work is the right of every person with autism and AACORN Farm will be a place where meaningful work will take place every day. Tasks performed on a farm can be simple or complex, but offer physical exercise and fresh air in natural surroundings, which in themselves can be therapeutic. The seasonal changes and demands of animals and gardens on a farm create their own cycles, providing opportunities for productive jobs that can easily be understood by individuals who tend to think literally and enjoy having a routine to follow. Every resident of AACORN Farm will have the opportunity to learn and progress at his/her own pace while benefitting from supportive staff and fellow farmers to learn from.

Who will be able to apply to live on AACORN Farm? How will residents of the farm be able to pay for the services they receive living on AACORN Farm? Any adult with autism and related disabilities can apply to live on AACORN Farm. It is anticipated that the majority of our residents will be from Southwest Michigan. Currently most adults with autism receive financial support from federal, state and local agencies. Adults who apply to live at AACORN Farm will need to have funding in place to pay for the services they receive at AACORN Farm. AACORN Farm will work with any interested party to assist them in finding the financial means to support their desire to live on the farm.

When can I apply for someone to be considered as a resident at AACORN Farm? AACORN Farm is not currently soliciting applications for residency, but we are offering vocational programming in July, 2013. We have provided a copy of our residential application form on this website for any interested party to review. If you are interested in being contacted when the application process begins please fill out the contact form found under the Contact Us tab of our website and we will contact you when we open our application process for residency. If you need a vocational program application, contact us by email.

How can I help AACORN Farm become a reality? We would encourage any potential donors or volunteers interested in participating in the creation of AACORN Farm to contact us directly by using the contact form on our website. A donation of any amount can be made through this website by clicking on the 'Donate' button found on the bottom of each page of our website.

I am a college student or community volunteer interested in working with adults with autism. What volunteer opportunities are available for me? AACORN Farm welcomes students and local volunteers and volunteer agencies to consider working with us now and in the future. We need volunteers for our program in September, 2013, and would encourage you to contact us using the form on this website and let us know in what capacity you would like to volunteer. We anticipate that students from Western Michigan University, Kalamazoo College and Kalamazoo Valley Community College will have skills and talents to share with AACORN Farm. Students studying Education, Special Education, Occupational Therapy, Speech and Language Therapy, Agriculture, Business, and Social Services (just to name a few) are welcome to contact us immediately for volunteer opportunities. Or, if you are a community member gifted with friendliness, patience, and flexibility, and are able to walk and stand for extended periods of time, contact us and we will send you an application.