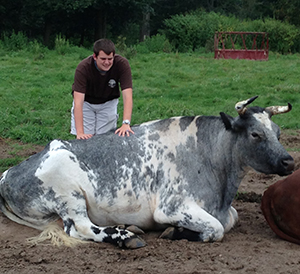 The mission of AACORN Farm is to expand vocational and residential options for adults with autism or developmental disabilities in a supportive agricultural community.
Our core values
We recognize that we are all unique individuals who need and deserve a life of dignity and meaning.
We believe that each person working for or receiving services from AACORN Farm deserves respectful treatment in all interactions and will actively cultivate a climate of mutual respect and understanding.
We believe in the value of a strong community, and support all persons we serve in making positive contributions to the AACORN community and beyond.
We believe that all adults deserve to have choices in their living arrangements, relationships, and pursuit of their passions, and take pride in offering expanded choices to the individuals and families we serve.
We recognize the importance of meaningful work and leisure activities, and strive to help all individuals we serve to find the work and activities that bring them fulfillment while encouraging them to build new skills and capacities.
We encourage and support all individuals we serve in maintaining their close relationships with family and friends while offering them many opportunities to build new relationships.
We believe in the responsible stewardship of the earth's resources and demonstrate this value in the maintenance of AACORN Farm and its programs.
Our history
AACORN Farm was formed early in 2011 by parents of children and adults with Autism Spectrum Disorder (ASD). The group dreamed of bringing an agricultural experience and therapeutic farm activities to individuals with ASD or related disabilities in Southwest Michigan. Members of AACORN Farm are aware of the growing movement throughout the USA in which agricultural communities are providing meaningful and productive work for individuals with autism or related disabilities and also are offering appropriate, permanent housing. We are working to establish a farm community for adults with ASD or related disabilities in Kalamazoo County, Michigan.
We are making steady progress in developing an agricultural community. We have appointed a board of directors, incorporated as a non-profit organization in 2011, and were awarded 501(c)3 tax-exempt status in June, 2013. AACORN Farm is a proud partner of Agricultural Communities for Adults with Autism (ac-aa) which is a consortium of existing organizations focused on sharing best practices and advocating for holistic, agricultural based employment and housing models for adults with autism.
While raising funds to purchase an existing farm or farmland, we are not waiting to begin offering services. In summer of 2013 AACORN Farm began offering a vocational program three days per week at Tillers International in Scotts, Michigan. Participants are introduced to animal care, gardening, arts and crafts, and outdoor games that emphasize positive responses to others and teamwork. While we are grateful to this wonderful organization for offering their farm for us to use, we have moved to Lakeside Village Homestead due to a need for a larger indoor space. In September, the program will be offered four days per week. We are seeking adults in the autism spectrum or related disabilities who may be interested in participating. Contact us through our email address on this website.