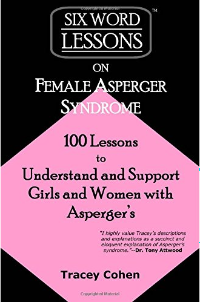 Six-Word Lessons on Female Asperger Syndrome: 100 Lessons to Understand and Support Girls and Women with Asperger's
Six-Word Lessons on Female Asperger Syndrome gives you 100 honest, pointed lessons written by a woman with Asperger syndrome. Under the radar well into her thirties, the author illustrates little-known behavioral differences indicative of male and female Asperger syndrome, early signs for detection, coping strategies, diagnosis and more. Created for individuals, families and professionals alike, readers will come away inspired and reassured having gained practical knowledge to understand and enable successful aspie living in our complex neurotypical dominated world.
AACORN Farm is a member of The Coalition for Community Choice. 
This paper describes perfectly what AACORN Farm is and is not. 
 
Letter sent to CMS
We have posted a PDF of the letter sent to CMS by the Coalition for Community Choice. This organization had begun under the auspices of Madison House for Autism. When the CMS issue began in spring of 2014 Coalition for Community Choice (CCC) made the bold step to take the lead by coordinating the efforts of 70 programs all over the US who were reeling from the CMS guidelines that will abolish choice to live or work  in an intentional, farmstead or campus style program.  There are now 86 organizations that belong CCC and together we are making our voices heard in Washington and in most states where Transition Plans are now being written. Please follow our FB page and Website closely in the year to come as we will be asking for your support to defend the right of every individual with a disability to make their own life choices. At the core, the right to choose is the most fundamental right and now is the time.
Startling rise in number of autism diagnosis
A new article in the Autism Daily Newscast has the terrifying statistic that the possibility exists for half of all children will be born with some level of autism by the year 2025. If this researcher is indeed on to something with the assertion that there is something in our food supply that is affecting children it would explain the nagging question we have all been asking - what is different in our lives now than a generation ago that would cause the diagnosis of autism to skyrocket?  When it comes to changes such as a diet of organic foods it may be something to embrace as a caution for young children. 
 
Two young adults struggle to find appropriate services
We have created a link to a story done in June 2014, a story of 2 young adults with autism who are struggling to find appropriate services as adults. This story could be written in every city and every state in the US. This is the current state of affairs for adults with autism and developmental disabilities. We need MORE options, we need VARIED options, we need INNOVATIVE options…and that is what AACORN Farm is all about. Please support us by following our website and liking us on FB and consider a tax deductible donation of any amount.
We are currently operating our small vocational program on a rented farm with the goal to have our own farm here in Kalamazoo. AACORN Farm will have a vocational program for adults with autism/developmental disabilities. We also plan to build a small planned unit development that will have homes for people of all abilities who share a desire to have sustainable agriculture as a part of their daily lives. In the face of the crisis of too few programs, too few options we are choosing to innovate and in doing so we will be  "Expanding Options, Building Community". And if you would like to support us financially you can do so through our website or by mailing a check to:
AACORN Farm
P.O. Box 884
Kalamazoo, MI 49008
All that paperwork...
Paperwork is never a favorite activity but when you have an adult child with a disability organized paperwork is a must. I am not suggesting that you have binders labeled and tabbed with indexs…. to be honest that is beyond what I can do. What I am capable of is a drawer. It's drawer in a file cabinet. Occasionally, when I have time I take papers from the mail, from the courts, from school and use marked folders or add paperwork to folders I already started. I found if I bought a box of folders, put some pens in it and put it in the drawer where I keep stuff I am more likely to use it. Guardianship or Power of Attorney can go into a clear plastic page protector (or ziplock bag) and go into your purse and you can fold them small enough to be in a wallet. Some things you just have to have with you in case of emergency. So if you are thinking that your home desk/table/kitchen counter need some organization—it's 2015! Get a fresh start!! Happy New Year!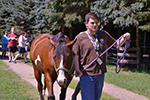 My experience navigating the 'system' with my son who has autism
When my son Tom, now 23, was diagnosed with autism before the age of 2 it was 1993 and the social worker who delivered the diagnosis handed me a grainy xerox copy brochure about autism that explained autism's affects….the information fit on a 2 sided copy. Worse yet, I will never forget that she said to me "there isn't much hope, this is all I have to give you". I went to the Family Medical guide I used whenever any of my 4 sons were sick and looked up autism. That made it worse- I cried for hours after reading it. Fortunately, I found there was an Autism Society where I live in Kalamazoo, Michigan, and I called a woman who had a teen son with autism. She was the first voice of hope that I heard. She encouraged me to try everything I could to help my son- and I did.  I did my research and settled on Applied Behavior Analysis. My local school district refused to provide ABA for my son stating "we tried that and we know it's not the best therapy".  So I did 2 things. First, with the help of a wonderful professor at Western Michigan University (one of the top behavioral psychology universities in the country) I created a 40 hour a week ABA program for Tom and somehow managed to pay for it by hiring dedicated college students. There were other parents of children with autism who called me cruel, said I was punishing my son for having autism and I lost a few friends. I was not deterred, I could see my son making progress and being drawn back into the life around him. The second thing I did was file a suit against my local school district to force them to provide ABA to children with autism. Although the statistic was that 98% of suits brought by parents lost…mine won. My local special school district began their ABA program for toddlers- a program they now proudly claim for the success it has had. 
You would think that after over 21 years of advocating for the rights of my son I would now be slowing down, a bit tired from the journey. The opposite is true. Now I am facing the fact that the adult system my son is entering is under-funded and already straining to serve the adults with disabilities in my community. My son is at the beginning of a tsunami of autism barreling towards the adult system here in my county and the same is true all over the United States. Parents of young adults with autism who have benefited from IDEA in the educational system are now "falling off the cliff" into the nothingness of the adult system. Let me be clear in stating this to all parents who currently benefit from IDEA and have not yet approached the adult system : There is no requirement - no mandate- in the adult system to provide an appropriate vocational or residential setting. 
In 2011 I became involved with a group of dedicated parents and professionals and together we started AACORN Farm. We had done our research and we found that there is great benefit for many adults with autism working in an agricultural setting and we wanted to bring that choice to our community. In our research on Farmsteads we learned that the myriad of tasks big and small on a farm, the connection to animals that need care and the richness of working outdoors free from artificial lights and urban noise and to be honest, not getting fired from the farm for meltdowns- all contribute to success in the farm setting. My son, Tom, like Temple Grandin, has a special connection with cows. He did not grow up on a farm and never met a cow until he was in his teens. But when he works at the AACORN Farm Vocational Program his reward for a job well done is often a trip to visit the cows at a nearby farm. The AACORN staff stay back while Tom walks out into the field. If staff approach the cows move away. When Tom approaches the cows alone they move towards him and surround him while he stands among them grinning ear to ear while making sounds that indicate a level of communication beyond what we can comprehend. He is nicknamed "The Cow Whisperer".  
I would like to say my battles are dwindling after having  spent the last 5 years helping to grow a non-profit organization that will eventually have it's own farm and offer both vocational and residential services to adults with autism/developmental disabilities.  I felt that way until a few months ago with the new Guidelines from the Center for Medicaid (CMS) were issued for Home and Community Based Services (HCBS). In essence, this is the are of the government that decides where people with disabilities can choose to live and work by funding those choices.  These new guidelines singled out  farmstead programs  as "Presumed To Be Issolating". All 50 states are charged with creating a Transition Plan based on these new guidelines. In it's current form the new HCBS rules will  result  in all 50 states being forced to  "de-fund" current farm programs and block future funding to farm programs now in formation. Programs like AACORN Farm and over 70 farm programs in communities all of the US. It seems like all the battles I have waged in the past 20 years have led me to this battle against a machine so big I don't even know how to start. The Federal Government has determined that my son does not have the right, does not have the CHOICE to say where he would like to work and live. And so it begins. 
I hope that every parent of a child with disability who reads this will be as mad as I am that the Federal Government has in essence limited choice rather than expand choice in the face of this growing crisis of services for adults with autism. 500,000 adults  with autism will be entering the adult system in the coming decade. Parents and professionals all over the US are doing their best to create more and better options for people with autism in the hope that we can get ahead of the wave. Parents have always been at the forefront of change in the systems that serve our children. We pushed for IDEA, we pushed for Inclusion, we pushed for Transition Planning and now we are pushing for Choice. All we need is a fair shake. The chance to show that our farmstead programs offer a quality of life that is satisfying by any measure. We can begin with the measure that Bittersweet Farms, a 30 year Farmstead program in Whitehouse Ohio, has a waiting list of years because the adults with autism they serve are so satisfied with their lives that they never leave. These satisfied individuals are not "placed", they are not "institutionalized" - they are choosing a path for their lives that satisfies them. Many adults who come to Farmstead Programs have failed at and been asked to leave numerous other options available to them. I can attest that in AACORN Farm's experience running a small vocational program, every one who has come to us interested in a new option found success at the farm. A 40 year old man with autism living his life shredding everything he came in contact with, physically attacking his staff  and failing at every program he has tried has had his life transformed by working at the farm. No more shredding, no more aggression. He has found purpose and satisfaction he had never experienced before by working at AACORN farm. 
I would encourage every parent of a child with autism to closely follow the Transition Plans their state is creating. Be aware that choices where you live are being restricted. Join the efforts now to expand choice by getting involved in the process. Go to the Coalition for Community Choice website for more information (coalitionforcommunitychoice.org). I know I don't need to instruct fellow parents of children with autism on how to get involved and advocate for choice, we are a savvy bunch when it comes to advocacy. We have all had our own personal journey through a life affected by autism. We have had struggles and disappointments and on occasion we have had joyful success and we have always been at the ready to fight for what our children deserve. I would ask that you join me in this next step in the journey and help me work towards ensuring that choice is respected for all individuals with autism/developmental disabilities.  Choice- what a concept!!
 
Pets help autistic kids improve social skills
http://www.cbsnews.com/news/pets-help-autistic-kids-advance-social-skills/
Those of us who grew up loving our pets know that there is a quality to the relationship we have with our pets that is completely different than the relationship we have with the people in our lives. Our pets need us for affection, for food and water and for adventures. And if you are like me, you have never outgrown needing the love of a dog, cat, horse or bunny. It's a lifelong need and one that makes us better people (just my opinion). With that in mind I have to pose the question: Why did The United States Center for Medicaid/Medicare Services determine that living on a farm to be "presumed as isolating"? Why did CMS set up guidelines that will essentially force people already living on farms to move as well as destroy the dreams of farms like AACORN who seekto create a desperately needed new option for life in a rural atmosphere. Farms are full of people working the earth and animals who need care. It's different than the traditional pet relationship we have with our dogs and cats but for many people with autism, including Temple Grandin, Phd., large farm animals are their passion and what they choose to do with their lives. So why would you discriminate against that way of life? Why would you single out farms as "less than" when it comes to quality of life? In the end it's about choice. And my son's choice is to (as Liz Farner puts it) "commune with the cows". I hope you will consider supporting AACORN Farm and every other farm project in the country as we advocate for the choice of people with autism/developmental disabilitiesto live life on their terms… and that includes living on farm. Please watch our FB page and our website as we work to defend choice and "expand options and build community".
Sensory Rooms are not new but they are growing in popularity
These rooms allow individuals with autism to rest their senses from the constant onslaught of noises, lights, smells and motions of a busy world have proven to be very effective for kids. They are also effective for adults. Safe Haven Farm in Ohio built a Sensory Room for the benefit of the adult residents on the farm. Even in the quiet of country living of Safe Haven there are times when a room designed to support comfort, calm and quiet are needed. Safe Haven, like Bittersweet Farms and Benjamins Hope are uniquely aware of the needs of the adults who live there. AACORN Farm seeks to be the same supportive environment for adults- an environment that balances the choice to live and work on farm, abundant opportunity to be a part of the community and all the little things that matter when you seek to give the best quality of life possible to someone you love.
How can the Department of Health and Human Services promote 
Person Centered Planning while issuing rules that limit choice?
The ACL BLOG refers to Person-Centered Planning and Self-Direction and the Implementation of HCBS (Home and Community Based Supports) that will "respond to the changing needs of beneficiaries, maximize independence, support self-direction..". The article goes on to say extoll the benefits of Person Centered Planning which everyone agrees is the best way to support any individual with a disability. This begs the question: WHY ARE FARMSTEAD PROJECTS AN EXCEPTION?  Why is it an individual who visits a farm vocational or residential program, finds it to be what they want, family and friends support that choice but because of new CMS rules that deem a farm to be "presumed to be issolating" the individual can not have what it is they have chosen. The result of the new CMS rules is a narrowing of the choices available to people with disabilities at the very time they should be expanding them. 
Their CHOICE is not being honored.
We have posted the new Michigan State Transition Plan and have launched an email writing campaign so that all who support CHOICE can weigh in during the comment period on this plan (Dec 24 deadline). Although I understand that the State of Michigan is following the lead of federal guidance we are committed to fighting the new rules  on the federal level as well as the effects of the these rules on the local level.  Why is it Farmstead projects were singled out to be named "presumed to be isolating" thereby denying residential and vocational funds that allow people with disabilities who CHOOSE to live and work in a agricultural setting I don't know. Parents and Professionals who are intimately involved with farm projects weighed in with stories of great success and proof that farms are integral parts of the local communities well known and supported by their communities. Those choosing to work and live on a farm express they happiness and desire to continue to live on a farm and feel a part of their larger community. Their CHOICE is not being honored. Please stay in touch with us at AACORN Farm and also go to the Coalition for Community Choice website and FB page and follow us as we fight for CHOICE both here in Michigan and across the county.
'Hot Issues in the News'
MICHIGAN STATE TRANSITION PLAN has a big impact on AACORN Farm. 
We only have until December 24 to speak up and below I have made it as easy as a cut and paste!!! Go to 'Hot Issues in the News' to get detalis.
The holiday season is in full swing
As the Christmas season approaches and life ramps up we at AACORN Farm are working hard. We've sent our appeal for funds out to over 300 supporters, we continue to write grants and have been successful in that venture and we are continuing our outreach to find more people to serve. Our goal for 2015 is to reach the population of adults with autism/disabilities for whom no other vocational opportunity has worked. We know they are out there living a life that consists of trips to the grocery store, going to the movies, visiting the library…..all great things but this does not a life make!!  We have seen amazing transformations in the farmers we serve. They have less aggression, they learn the joys of teamwork and connecting with staff, other farmers and the wider community. MOST importantly….it doesn't matter where an individual has failed in the past…we want a chance to create success with them. 
When you are out at a Christmas party or Holiday get-together be sure and ask friends and relatives who have loved ones with a disability if they would like to try something new and innovative. There is nothing to lose and an entire quality of life to be gained.
New rules and guidelines for Home and Community Based Services will dictate what type of living and working situations Medicaid dollars will fund for people with disabilities
AACORN Farm is asking for help from our supporters. There are new rules and guidelines for Home and Community Based Services that will dictate what type of living and working situations Medicaid dollars will fund for people with disabilities. There is language in the new rules and guidelines that is a threat to the farmstead model.  There are disability advocates who believe that farms are by their very nature isolating and that people with disabilities living on a farm will be tantamount to living in an institution…..we at AACORN Farm disagree!!  Would it surprise anyone to know that many of those advocates  who hold these rigid opinions live in mostly urban/suburban areas and don't understand life in a farm community? Michigan is a state rich with agriculture and farm communities and I don't think you will find many who live in those communities who would call their lives isolated or less than satisfying.  The question is: Why would advocates fight to create a barrier for  adults with disabilities who would CHOOSE  a life working or living on a farm? Isn't choice what advocates for people with disabilities hold most dear? My son has autism and despite his difficulty in expressing himself he has told me in every way possible that he wants to work and live on a farm, it's his dream.  I will be posting information on our website about how you can help us promote farms as a FULLY FUNDED CHOICE for people with disabilities.   Please stay tuned and if you would like more information than what you have read here please email us through the website and we will be in contact with you directly. Read the article.
What is Quality of Life?
Quality of Life (QoL) is an internationally validated framework developed by Dr. Robert Schalock. Watch the video. QoL is represented by eight domains that provide an indication of an individual's quality of life in three broad areas: Independence, Social participation and Well-being. The eight domains are:
emotional well-being – contentment, self-concept, lack of stress
interpersonal relations – interactions, relationships, supports
material well-being – financial status, employment, housing
personal development – education, personal competence, performance
physical well-being – health and health care, activities of daily living, leisure
self-determination – autonomy / personal control, personal goals, choices
social inclusion – community integration and participation, roles, supports
rights – legal, human (respect, dignity, equality)
The QoL framework fits well with CLBC's overall vision of good lives in welcoming communities and applies equally to all people – disability or no disability.
PLEASE JOIN AACORN FARM to preserve the vocational and residential option of a Farm-based lifestyle. The Federal Rules do NOT require individual states to classify Farmsteads as un-fundable. Our states have a choice and they need to hear our voices loud and strong. We will be posting information on our website and FB page on what you can do to help. I have spoken with advocates who are putting together all the information needed and AACORN Farm will pass along all we learn. Please sign up on our website so we can send the information directly to you.
Finding a relationship that works without judgement
It's wonderful that 2 young people with autism have found each other and discovered happiness is the shared struggles of loving each other, even if that love is completely different than what is "typical".  When we talk about integrating or including people with disabilities to enhance their connection to their community we have be cognicent that often times they choose others with disabilities as their closest friends and even significant other. As a parent of a child with autism I relate very much to the power of being with someone who understands your struggle in every sense of the word. My son Tom's best friend is Jacob who also has autism. Theirs is an unusual relationship but we as parents don't question it. If we all find friends, family or groups that offer us total acceptance in our lives then that is a blessing indeed. 
Children with autism benefit from participation in play groups with typical kids
We are posting the Autism Speaks article about children with autism benefiting from play with play groups of typical kids because there is so much value in the learning and bonding that takes place in group activities.  Autism is a lifelong condition and learning is a lifelong experience.  A couple weeks ago AACORN Farm organized a Saturday morning apple picking event. We met at a local apple farm and we were a pretty good size group of parents and adults with autism.  As we were walking the two-track path back to the apples trees I looked ahead and there was the entire group of adults with autism walking together. We didn't encourage them to do that…it just happened naturally. It was a beautiful thing to see them walking as a group of friends. As we were finishing apple picking some of the adults with autism noticed others hadn't filled their bags. They then took it upon themselves to offer to help pick until all the bags were full. Just a group of friends…out on a crisp fall day…picking apples, having cider and donuts together. Doesn't get any better than that! 
The movement to raise pay for individuals with disabilities
The Bloomberg story (posted on our website) describing the movement to raise pay for individuals with disabilities provokes a lot of thought. This issue is incredibly complex. I have always been in favor of "equal pay for equal work" and I am certainly in favor of people with disabilities being employed and compensated for their hard work.  The reality is that often times individuals with very challenging behaviors (autism comes to mind) need additional supports in their work environments.  It is realistic to understand that workers with disabilities will often be unable to perform their work tasks with the same skill and efficiency  as non-disabled workers.  I believe that  people with disabilities find great satisfaction in working at their own pace, in fact,  working at their own pace is an individual right that needs to be supported. There are very good arguments to be made from both sides of this issue but my side of the issue is personal. I have a 22 year old nonverbal son with autism who needs supports to experience success. I feel it's likely the unintended effect will be to shrink the job market for my son and others like him. As for the glib comment in this article that people will be "dying with their rights on", is it me or is that just incredibly insensitive and dismissive of those who lives will be affected?
 
Try out this fun, safe Halloween event
Activities your family will enjoy.
 
The Three Rs for Bullying Prevention: Recognize, Respond and Report.
http://www.2d-hosting.com/autism-society/files/2014/10/3Rs-for-Bullying-Prevention.pdf
No matter the age of the individual and whether they have autism, a developmental disability or just a normal child -  bullying remains one of the most difficult situations to get a handle on. Not knowing that a child or adult with autism is being bullied is a huge barrier and it is what  frightens me the most. When my son Tom was in second grade we discovered that one of his "buddies" who volunteered to go with Tom to the bathroom was punching Tom in the stomach while in the boys bathroom.  We only found out because a parapro went in to check on why Tom and his buddy were gone so long. We have no idea how long that behavior had been going on and Tom was completely incapable of telling anyone what was happening to him.  Although that was 15 years ago I have never forgotten the absolute devastation of knowing my son was being tormented and had no capacity to defend himself or seek help. And I wondered what life must be like for Tom's buddy, an 8 year old child that chose to physically assault his classmate.  The problem is so complex…I think calling awareness to the issue with Bullying Prevention month is a good start.
Today I read the article about Language development in the Autism Speaks Science Digest http://www.autismspeaks.org/science/science-news/language-delay-leaves-signature-brains-adults-autism?utm_source=email&utm_medium=text-link&utm_campaign=sciencedigest
When my son Tom was diagnosed  with autism at age 18 months (1993) he was completely non-verbal.  We chose to participate in a study being done by Dr. Chugani at Detroit Childrens Hospital because Dr. Chugani was doing valuable research into the autistic brain. The study was for young children with autism and it involved Tom having a PET scan done of his brain. I knew most of the parents in Kalamazoo that participated in the study and I heard back from our friends that the results of their children's scans were unremarkable. Not so for Tom.  Dr. Chugani sat us down and showed us images of Tom's brain. Where there should have been bright colors indicating normal brain activity there was instead mostly darkness in both of Tom's temporal lobes. Dr. Chugani explained to us that this was significant because much of the brains speech and language activity occurs in the temporal lobes. We realized at that moment that Tom would always have communication deficits. It will be fascinating indeed when the scientists are able to connect the language deficits to other indicators of autism and perhaps give us a few answers that will help us in supporting the nearly half of people with autism who struggle with language. And as every parent of a child with autism already knows… no study or scan can ever explain the miracle of our kids. They defy science and expectation and continue to amaze us and humble us with all they have to offer. 

 
Netflix: Five films about autism
This Sunday I sat and watched the trailers for 5 films on autism that Netflix is offering. 
http://www.autismspeaks.org/news/news-item/5-autism-films-netflix
A big thanks to Autism Speaks for getting the word out about this collection of films. If you only have time to watch one…Sounding The Alarm is the one I recommend.
Michigan Autism Conference in Kalamazoo
AACORN Farm participated in the Michigan Autism Conference in Kalamazoo this past week. Mary Connors and I were vendors in the Radisson Ballroom and worked two 10-hour days meeting people from all over the State of Michigan, Illinois and Indiana. This was the 2nd Annual conference and they more than doubled their participation... a rave success! We handed out nearly 300 brochures about our services and collected hundreds of new contacts, mostly professionals in the field of autism and all of whom expressed both interest and support for what AACORN Farm is doing. Valerie Lyle of Van Buren Community Mental Health won the Samsung Galaxy 3 tablet we were raffling off at the conference, congratulations Valerie! AACORN Farm continues to reach out to professionals in the field of Autism/DD and mental health for help in referring adults in need of our services. If you know of any adult age 16 and up that could benefit from participating at AACORN Farm please email kim.nelson@wmich.edu or call Cathy at 269-270-2402.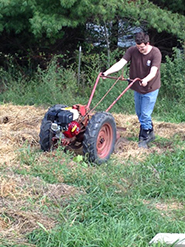 Tom Pinto is working with AACORN Farms 2 wheel tractor. If you have never heard of a 2 wheel tractor then you aren't alone. We learned from our 24 farmer Matt Paris that these are very useful and there are many implements that allow the tractor to do many things. Its a great way to have AACORN farmers like Tom participate and take pride in his work. Our 2 wheel tractor was purchased with grant funds and will be a part of our program for many years to come!!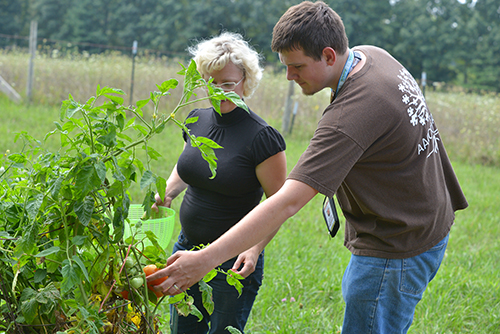 Extending our growing season
Fall is quickly approaching and AACORN Farm is planning our purchase of a greenhouse to extend our growing season. AACORN Farm is grateful to the Dorothy U. Dalton Foundation for the grant funds to support our new greenhouse operation. Volunteers interested in working with us on this project would be immediately put to work!!
The ALS challenge is met at AACORN Farm
As the mother of Jeremiah, our oldest participant so far, I have been through a number of day programs and living situations with him. No program in the past was suited to his need for small groups, a slower pace, and low noise levels. Having Aacorn Farm Vocational Program has been life-changing for Jeremiah. He looks forward to four afternoons per week of helping with animals, collecting and washing eggs, making snacks from farm produce, and many other activities. An unexpected bonus for him has been making friends. We think of individuals with autism as having difficulty forming relationships, and while this can be true, maybe it's the context that can make the difference. When included and fully accepted in small groups working and enjoying activities together, friendships do form and flourish. I especially like the picture of Jeremiah and Sean!
~ Cindy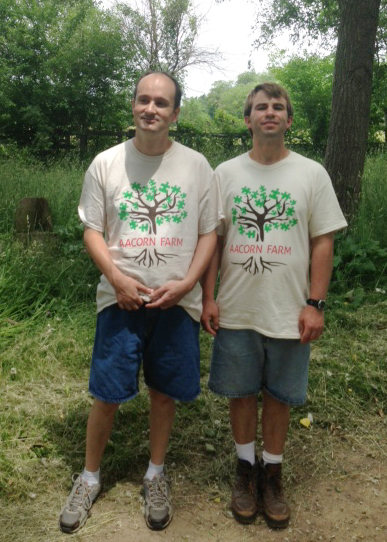 Our director, Liz Farner and one of our 'farmers' have fun with cold water in support of the ALS challenge.