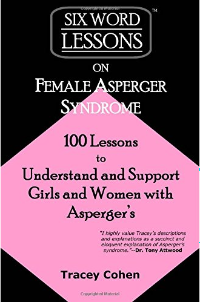 Six-Word Lessons on Female Asperger Syndrome: 100 Lessons to Understand and Support Girls and Women with Asperger's
Six-Word Lessons on Female Asperger Syndrome gives you 100 honest, pointed lessons written by a woman with Asperger syndrome. Under the radar well into her thirties, the author illustrates little-known behavioral differences indicative of male and female Asperger syndrome, early signs for detection, coping strategies, diagnosis and more. Created for individuals, families and professionals alike, readers will come away inspired and reassured having gained practical knowledge to understand and enable successful aspie living in our complex neurotypical dominated world.
We Connect Now website
The website was created while I was a college student with a grant to create a website to serve college students with disabilities. I developed the website to connect and integrate college students with disabilities as a virtual community with a voice on important issues with particular emphasis on college students and access to higher education and employment. The We Connect Now website has been up and serving college students with disabilities since April of 2008.
The website has been used as a resource by institutions of higher learning and has been linked to by collegesand universities and groups serving people with disabilities in all states and at least 10 foreign countries and has been visited by people from 172 different countries.
We are also on Facebook.
Please visit and like us.
Sincerely,
Gabriela McCall Delgado
Open Letter to Southwest Michigan Supports Coordinators and Young Adult Programs
We are out to the local community in an effort to let all our surrounding school districts and mental health providers know that we provide a vocational program for young adults/adults with disabilities and in particular our program has had great success providing services for individuals with autism.

We are not yet residential. Our mission and vision is to create AACORN Farm the Vocational/Skillbuilding program and adjacent to our Farm will be a small planned unit development of homes for people of all abilities. The focus of this small neighborhood will be that it has direct access to AACORN Farm's animals and community supported agricultural projects which will have a focus on sustainable agricultural practices.

Our program on a small 2-acre leased farm where we have goats, chickens, a horse and pony and access to cows, pigs and other farm animals nearby. We operate our program year round and in 2014 we served 20 adults. The program runs Monday-Thursday with 2 sessions each day. The sessions are 9:30 - 11a.m.   and noon - 3 p.m.  We have not yet risen to the challenge of seeking KCMH approval and funding to pay for the cost of our program but participants in our program can use self determination dollars to pay for transportation and combine that with scholarships to make it very affordable. In county residents often use Metro County Connect. Out of county residents pay individuals for transportation with the self determination dollars they are allowed.
Although we have a fee of $50 per session we offer generous scholarships to all who participate in our program. We have very generous support from local foundations that allow us to cover much of the cost of our program and therefore offer scholarships that average 70% and more of the cost of the program. We are committed to removing the financial barriers to our program through this scholarship opportunity.

If you would like to visit AACORN Farm I would be happy to give you a tour. We could meet anytime on a Friday or at 3 p.m. Monday-Thursday.  Our 24 hour farmers who live on the property are always there caring for our animals. Our volunteer farmer, Matt Paris, was awarded the STAR Award for his volunteer contribution to AACORN Farm on April 22nd.

I hope all this information is helpful, please feel free to call me at 269-270-2402 or email me with any other inquiries or to set up a visit.

I look forward to speaking with you! Sincerely, Cathy Pinto
The DD Council of Michigan is holding open meetings to get feedback on the new rules and guidelines that are going into effect in the 5 year transition plan.
This is a very important opportunity to express directly to the DD Council our dissatisfaction that the choice of adults with disabilities is not being respected. The new rules and guidelines are set up to de-fund programs such as AACORN Farm. Register by May 28.
Michigan Developmental Disabilities Council
Community Conversation
Thursday, June 11, 2015
9:30am - 2:00pm
Comfort Inn
622 Allegan St.
Plainwell, MI 49080
Lunch will be provided
Congratulations to Matt Paris! Read the Mlive article
On April 21st AACORN Farm board members attended the Kalamazoo STAR Awards.(Sharing Time And Resources)  This was the 30th year for the STAR Awards honoring the most dedicated volunteers in Kalamazoo.   A few months ago when nominations were being solicited I wanted to nominate Matt Paris, our 24 hour farmer at AACORN Farm. It was not easy to get him to agree to allow me to nominate him…Matt is not a person who enjoys the limelight. But he relented and allowed me to nominate him.  In  writing my nomination I made it a point of saying that AACORN Farm would not be able to have a fully functioning farm without this one incredibly dedicated person. Below is the nomination I submitted, I hope after reading it you will agree that AACORN Farm does indeed have the #1 Volunteer in all of Kalamazoo!!!!. I and the entire board, staff, committee members and volunteers would like to say a huge THANK YOU to you, Matt Paris, AACORN Farm is the success that it is today because of your dedication and hard work. 
To the STAR Award Judges/2015 Adult Volunteer of the Year Nomination:
Matt Paris is our 24 hour volunteer farmer for the AACORN Farm Vocational Program.  AACORN Farm is a program that provides opportunities for adults with autism/developmental disabilities to learn and work in a farm setting. Matt lives on the AACORN Farm property (a 2 acre parcel AACORN rents from Lake Village Homestead). Matt volunteers at AACORN Farm 365 days a year. Along with his job as a nurse at Borgess Hospital Matt's volunteer job at AACORN Farm includes the daily care of farm  animals  and poultry and during the growing season Matt tends to AACORN's gardens. When AACORN Farm moved to this rented property in 2014 Matt guided AACORN in how to set up a proper farm.   Matt  built goat sheds, put up electric and traditional fencing, built a chicken coop and built raised garden beds. Matt identified a 2 wheel tractor that our program participants could use to turn the earth for our gardens. He rebuilt the used 2 wheel tractor we purchased and gave lessons on it's use to AACORN staff and participants.  Many of the activities Matt performs are done  working side by side with our program participants. Matt taught our participants construction skills, farming skills, teamwork and pride in their accomplishments. Many of the program participants look up to Matt as a role model on the farm. Matt's dedication to sharing his expertise in farming along with his daily work to keep AACORN Farm a well run farm are pivotal in AACORN's ability to offer our vocational program. 

Matt's passion for farming is contagious at AACORN Farm. AACORN's program participants come to us  having never experienced work on a farm. As a volunteer for AACORN, Matt provides our program participants a bridge to new experience.  By including program participants in the daily activities both large and small  Matt shows by example the value of a farmer's dedication to the animals and the land. Most importantly, Matt's patience and respect for AACORN's participants sends a message of respect and acceptance- something not often experienced by adults with autism/developmental disability.

Matt is employed at Borgess Hospital after having put himself through nursing school. Matt has lived and worked at Lake Village Homestead for many years which is how AACORN Farm came to know him. Matt  welcomed the AACORN Farm participants at Lake Village for the past few years, getting to know them by working with them at Lake Village. When AACORN Farm moved our vocational program from Tillers Farm to Lake Village Farm Matt volunteered to move with us to our rented farm and be our 24 hour farmer. He left the home he had at Lake Village's main farm and moved to the 2 acres of leased land that AACORN Farm now occupies.  
 
After HighSchool: The Journey to Life
A Road Map for Parents of Children with Special Needs
Click this link to read the report.
Intential Communities: What is this?
There is an urgent need for the development of sustainable housing and individualized supports in advancing more person-centered options. Fortunately, the law, including the new Medicaid Home and Community-Based Services (HCBS)regulations, supports the continuation and expansion of a unique housing model that leverages public-private partnerships and provides real community to residents. Called "intentional communities," this movement is rapidly growing and seen as one solution to the present housing crisis.
 
'You Don't Outgrow Autism': What Happens When Help Ends at 21?
Nickolas Kubicsko and his family were about to take their first family vacation in seven years. There was no question where they'd go: The Happiest Place on Earth. Twenty years old at the time, two years ago, Nick had been obsessed with Disney movies since he was a little guy.
Watch the story that appeared on dateline.
Not just a farm
Wendy Kaplan's daughter Rachel has autism. When she turned 21 and aged out of the public school system, her family searched for an alternative to the existing programs offered for disabled adults. The project that followed not only offered an opportunity for Rachel, but for dozens of other disabled adults. Watch the story that appeared on Dateline.
Supreme Court lowers rate of reimbursement for services provided to adults with disabilities
The recent decision by the Supreme Court that allows individual states to set a LOWER than the Federal rate of reimbursement for services provided to adults with disabilities is a blow to all the agencies who work so hard to provide quality services. If agencies can not rely on their state government to pay the full measure of what is allowed by CMS (Center for Medicaid/Medicare) then providers will be  forced to deliver a level of care that is below what CMS has intended.  Adults with disabilities are already suffering from funding cuts (remember the Sequester?)and  stagnant wages and a low unemployment rate make hiring and retaining quality employees very difficult.  Add to that the increase in adults with autism who are entering the adult system who will add another burden to an already strained adult system. An unintended result of this legislation will be that those hired to provide the day to day care for adults with disabilities will be minimum wage workers with little chance of advancement to a level of pay that rewards them for their professional efforts. I don't understand all the intricacies of the Supreme Court Ruling but I know that it sets up agencies who care for our most vulnerable citizens to be pawns in a game of state legislators who are trying to save a buck…at the expense of someone who they don't know but is someones beloved son, daughter, sister or brother. They deserve better. 

30th Annual STAR Awards
Date: Wednesday, April 22, 2015
Time: 7:15-9:00am
7:15-8am Continental Breakfast Reception
8-9am Awards Ceremony
Location: Chenery Auditorium, 714 S Westnedge Ave, Kalamazoo
Cost: $10
A beloved Kalamazoo tradition in its 30th year, STAR Awards will inspire you and remind you of best in our wonderful community. Each April, during National Volunteer Week, more than 600 volunteers, nonprofit staff and community members come together to recognize STAR Award winners, hear their stories, and celebrate volunteering. Just as we did last year, we are rolling out the red carpet and holding the program at Chenery Auditorium.

Join us for an uplifting morning of stories from our 2015 STAR Award winners, a special performance, and a continental breakfast reception prior to the event. Whether you're a winner, a nominee, a nonprofit staffer or a community member, you'll walk away filled with pride in your community. We always do. We look forward to seeing you there!
Survey that could help inform our legislators
This study is a one-time online survey that we ask adult family caregivers who provide care for an adult (18 and above) family member with autism spectrum disorder (ASD) to participate. We are interested to know what kind of challenges and needs you face and how your experience relates to your own well being. Michigan State University is conducting the online study Please consider participating to help with this important study- the results could potentially inform our legislators and adults service systems of the struggles that families who love and support their adult children with autism face every day. 
Great news from HUD
To help prevent thousands of individuals with disabilities from being unnecessarily institutionalized or possibly falling into homelessness, the U.S. Department of Housing and Urban Development (HUD) announced it is awarding $150 million in rental assistance to 25 State Housing Agencies. In turn, the state agencies will provide permanent affordable rental housing and needed supportive services to nearly 4,600 households who are extremely low-income persons with disabilities, many of whom hoping to transition out of institutional settings back to the community.
Real People, Real Stories
Beatte Sass continues to work on an advocacy project entitled Real Stories, Real People. She photographs the lives of families and persons living with a developmental disability. Their stories are inspiring, joyful, poignant and at times heart-wrenching, and they demand to be told. You can learn more about this project and view the photo essays at http://realstoriesrealpeople.org. I hope you will be as inspired as I am.
Opinion: Don't let state cut housing options for those with disabilities
All over America there are Transition plans being put in place that will affect the choices that adults with disabilities will have in their lives. As parents of children with disabilities it's difficult sometimes to keep up with the issues…we live disability every day in a way that consumes our lives. THIS however…this is a fight worth having.  Join AACORN Farm and the Coalition for Community Choice by following what is going on in your state and taking every opportunity to vote for CHOICE.
The right to choose for all adults with autism/developmental disabilities
We are posting a copy of Gene Bensinger's letter on both our website and our Facebook page.  Gene has been a longtime advocate for people with autism and we at AACORN Farm have had the pleasure of meeting him and his wife at their home in Michigan. We agree with every word of Gene's letter, we could not have written it any better. Thank you Gene for continuing to work for the right to choose for all adults with autism/developmental disabilities.
IMPORTANT SURVEY OPEN UNTIL 2-25-15
I have included the link below to the community needs survey that is currently underway for KCMHSAS. The survey is open until the end of the day this Wednesday 2/25/15. 
THE STIGMA OF AUTISM: WHEN ALL EYES ARE UPON YOU​: click to read
Any family member of an individual with autism knows the situation. You are out at a restaurant, a movie, a school event or a myriad of other places families go together. Your child/sibling with autism gets upset and it's rises to the level of acting out by screaming, running, falling down or the worst….self injurious behavior.  You are in public and people will point, stare, stop where they are going in order to stare and here it come… the "look" . The "look" says "I see what a terrible parent/sibling you are because look at that horribly spoiled rotten child that you are letting get away with such terrible behavior… SHAME ON YOU.  Well, that's what the look says to me. My son Tom has autism and at the age of 9 or 10 he melted down at a Disney park in Florida. A woman stopped and then stopped her family by calling out to them to come see what was going on with my son. They stood there like we were the entertainment. I admit it… I lost my patience. I didn't swear at her I just yelled "why don't you take a picture- it will last longer!?".  They scurried away. But here is what I have noticed in the 10 years since that terrible Disney event. Looks of compassion. Men and women making eye contact with me with great understanding in their eyes that conveys they know what I am going through. And I find myself doing the same. I can hear a child with autism from a mile away and I never miss an opportunity to make supportive and compassionate eye contact. It doesn't change anything, there is still a meltdown underway, but the feeling that more people understand is a gift in itself. 
Don't miss Alan Zarembo's series on autism in the LA Times. It covers a great deal of territory and has brought to light a wide range of personal stories that exemplify the complexity of issues surrounding autism diagnosis, treatment choices and effectiveness, impact on families and population incidence. There is also a comentary posted by Autism Speaks scientific advisory board member Irva Hertz-Picciotto, PhD, MPH. As an epidemiologist at the University of California-Davis MIND Institute, Hertz-Picciotto studies exposures to environmental chemicals, their interactions with nutrition and pregnancy and their effects on prenatal and early child development.
Michigan Horticultural Therapy Association
In Summer 2014 we at AACORN Farm were contacted by John Murphy of MHTA - The Michigan Horticultural Therapy Association.  In our vocational program at AACORN Farm we have seen the transformative change that often happens when a person with a developmental disability works with both food crops and animals. In speaking with John it was apparent that AACORN's mission is very much inline with the mission of the MHTA. John Murphy offered AACORN an opportunity to speak to the larger audience of the MHTA members at their upcoming conference in March 2015…What an Honor!!!
On Friday March 13th on the campus of MSU  Cindy Semark will be conducting a breakout session in the morning session of the conference at 11:15 am. This is a wonderful  opportunity for us to share information about AACORN Farm with individuals who value the therapeutic value of horticulture for people of all abilities.

New eScrip sign-ups in February can WIN A $100 VISA GIFT CARD. Participating grocers: Forest Hills Foods and Harding's. 
eScrip is a shop-to-fundraise program. Choose to support AACORN with your earnings. 
Kalamazoo Foundation supports AACORN Farm through a generous 4th quarter grant
We are fortunate to be located in a supportive community. Thank you Kalamazoo Foundation!
Hiring adults with autism
A businesswoman at first cynical about hiring adults with autism took the risk anyway. It wasn't exactly a smooth transition but in the end, presuming competence and setting the bar high proved what we at AACORN Farm have already learned… with the right supports adults with autism/developmental disability have an unlimited capacity to learn, grow and thrive. 
Caregiver salaries are an incredibly complicated issue.
Why would an organization like ADAPT that supports the rights of individuals with disabilities be cheering that a rule that required caregivers be paid minimum wage was struck down? Not because ADAPT feels that the caregivers are not worthy of minimum wage, but because federal funding (Medicaid) is so limited that the unintended effect would be that people with disabilities would suffer. I think that the majority of caregivers are worth their weight in gold and minimum wage is the least we can do for them. The real issue, the real challenge is to have our government agencies provide the funding necessary so that caregivers are paid a fair wage to deliver the necessary support for people with disabilities. That would be a rule we could all support. 
 
Mindfulness. 
Who has time for that? When you are the parent of a child with autism (of any age) you're lucky to brush your teeth and comb your hair much less meditate! I've posted an article on our website about Mindfulness because in this article there is guidance for those of us who do not have time for meditation..but we are currently living with a level of negativity that isn't good for us both mentally and physically. In this article Mindfulness is described as a practice. There is scientific proof that the  practice of Mindfulness can lead us to happier lives…and it can be accomplished without  sitting on a cushion and chanting, without incense or a quiet space (although I have tried these things and have enjoyed them!) This article explains how changing the way we talk to ourselves, judge ourselves and judge situations can be changed through practice and by doing so the practice can transform your life . I have heard it said that 95% of what happens to us is out of our control and the only thing we can have true control over is our attitude. The practice of Mindfulness is a way to examine our attitude and thinking on a daily basis in small ways that come up naturally. As the parent of a 23 year old son with autism who still lives with me, is mostly non-verbal and has some pretty difficult behaviors I can attest that incorporating Mindfulness into my life has been one of the kindest things I have ever done for myself. I hope you read the article and decide to give it a try. All you have to lose is unhappiness and stress.
It may sound too simple, but it does matter what we say to ourselves during times of great stress.
We've posted an article about positive thinking. The point of the article is "self - talk". When faced with the disappointments that living with autism can bring telling yourself something positive rather than living in the negative is therapeutic and has been proven to work.  So you are all saying "Easier said than done!!".  I agree. It's taken me years to incorporate this way of thinking into my life and the work is never done. To be completely honest, if it were not for this philosophy there would be no AACORN Farm. It was my belief and the belief of every AACORN Farm board member that we CAN make a difference and that we WILL succeed. It starts with taking a positive view of what you can do rather than what you can't change.
New rules from Federal Center for Medicaid Services will prevent individuals with disabilities from using SSI funds to live and work on a farm
Welcome to the blog of the Michigan Small Farm Council!  The Michigan Small Farm Council was established to advocate for small-scale farmers in urban, suburban and rural areas throughout Michigan, and to provide educational and information resources to the small farm community. Read a recent article written by Cathy Pinto, president of AACORN FARM.
AACORN Farm is a member of The Coalition for Community Choice. 
This paper describes perfectly what AACORN Farm is and is not. 
Letter sent to CMS
We have posted a PDF of the letter sent to CMS by the Coalition for Community Choice. This organization had begun under the auspices of Madison House for Autism. When the CMS issue began in spring of 2014 Coalition for Community Choice (CCC) made the bold step to take the lead by coordinating the efforts of 70 programs all over the US who were reeling from the CMS guidelines that will abolish choice to live or work  in an intentional, farmstead or campus style program.  There are now 86 organizations that belong CCC and together we are making our voices heard in Washington and in most states where Transition Plans are now being written. Please follow our FB page and Website closely in the year to come as we will be asking for your support to defend the right of every individual with a disability to make their own life choices. At the core, the right to choose is the most fundamental right and now is the time.
Startling rise in number of autism diagnosis
A new article in the Autism Daily Newscast has the terrifying statistic that the possibility exists for half of all children will be born with some level of autism by the year 2025. If this researcher is indeed on to something with the assertion that there is something in our food supply that is affecting children it would explain the nagging question we have all been asking - what is different in our lives now than a generation ago that would cause the diagnosis of autism to skyrocket?  When it comes to changes such as a diet of organic foods it may be something to embrace as a caution for young children. 
 
Two young adults struggle to find appropriate services
We have created a link to a story done in June 2014, a story of 2 young adults with autism who are struggling to find appropriate services as adults. This story could be written in every city and every state in the US. This is the current state of affairs for adults with autism and developmental disabilities. We need MORE options, we need VARIED options, we need INNOVATIVE options…and that is what AACORN Farm is all about. Please support us by following our website and liking us on FB and consider a tax deductible donation of any amount.
We are currently operating our small vocational program on a rented farm with the goal to have our own farm here in Kalamazoo. AACORN Farm will have a vocational program for adults with autism/developmental disabilities. We also plan to build a small planned unit development that will have homes for people of all abilities who share a desire to have sustainable agriculture as a part of their daily lives. In the face of the crisis of too few programs, too few options we are choosing to innovate and in doing so we will be  "Expanding Options, Building Community". And if you would like to support us financially you can do so through our website or by mailing a check to:
AACORN Farm
P.O. Box 884
Kalamazoo, MI 49008
All that paperwork...
Paperwork is never a favorite activity but when you have an adult child with a disability organized paperwork is a must. I am not suggesting that you have binders labeled and tabbed with indexs…. to be honest that is beyond what I can do. What I am capable of is a drawer. It's drawer in a file cabinet. Occasionally, when I have time I take papers from the mail, from the courts, from school and use marked folders or add paperwork to folders I already started. I found if I bought a box of folders, put some pens in it and put it in the drawer where I keep stuff I am more likely to use it. Guardianship or Power of Attorney can go into a clear plastic page protector (or ziplock bag) and go into your purse and you can fold them small enough to be in a wallet. Some things you just have to have with you in case of emergency. So if you are thinking that your home desk/table/kitchen counter need some organization—it's 2015! Get a fresh start!! Happy New Year!