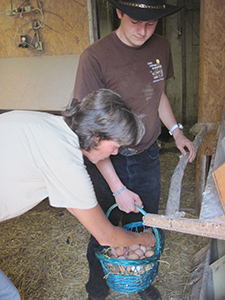 A well-rounded program
AACORN offers a program that emphasizes skill building aimed at independent performance of skills. Healthy lifestyles are promoted through meaningful, daily tasks performed in a quiet, rural setting and in the community.
•    A walking program calms anxiety and increases physical stamina
•    Arts and crafts
•    Sewing and blanket-tying
•    Outdoor picnics, enjoying nature
•    Trips to purchase animal feed and supplies
•    Planning meals, shopping, and cooking
•    Plant husbandry, from seed to harvest
•    Canning harvested produce
•    Cleaning indoor spaces and animal cages
•    Feeding animals
•    Riding horses
•    Milking goats and making goat-milk soap
•    Collecting, washing, and packaging eggs
•    Delivering homemade products to local non-profits
•    Collecting money from coin jars, counting money, rolling coins
•    Office/clerical tasks
Expanding Choices
AACORN is committed to offering a variety of choices, some of which are new to participants. Many experience anxiety with new activities, so the staff works hard to counter "I can't" "I'm scared" and "I don't know how" with gentle encouragement, partnering with them to build confidence and eventually perform tasks independently. Activities are offered on a spectrum from low to active engagement so that the person may begin at his/her comfort level.
•    Observing and being near a goat         
•    Feeding and watering the goat
•    Grooming the goat
•    Milking the goat
All participants are expected to pitch in and help clean up after any given activity, since that is what responsible adults do, and it's all part of skill building.
Building Community
The program at AACORN emphasizes working alongside others to help participants build social skills while engaging in meaningful activities. This cooperative model creates a sense of community among peers who are typically marginalized due to their communication challenges. They enjoy going to special places together like the zoo, or just hanging out around a campfire making s'mores.
But community does not stop there. From a place of ease and familiarity with each other, members are more comfortable reaching out to the larger community to help meet the needs of others. They enjoy making deliveries of fresh eggs and hand-tied blankets to the YWCA, and herbs to Feed The World Café. The AACORN community also contributes active support to events like Harvest Fest at Tillers International and the Autism Walk each April.
The Importance of Routine
Individuals who find social interactions awkward are often limited in their understanding of language and ability to communicate effectively with others. This creates uncertainty and anxiety. Having a predictable routine to their day allows them to function best. There is safety and comfort in knowing that events will unfold in order, and that tasks will be repeated. The rhythms of nature and the care of animals provide the routines craved by AACORN attendees. They also know that the work they do is necessary and vital for a good outcome.
The Value of the Human-Animal Bond
Participants in AACORN's program have multiple opportunities each day to form bonds with animals. They learn nurturing and empathy for others
from caring for an animal. They discover that they are needed, which boosts confidence and self-esteem.
Studies abound revealing the benefits of humans' close interaction and engagement with animals. Most importantly for persons with autism and other developmental disabilities, animals offer non-judgmental, undemanding companionship. Positive outcomes observed:
•    An increase in positive social behaviors
•    Willingness for more physical contact and eye contact
•    More accepting of social advances from others
•    an increase in positive mood and affect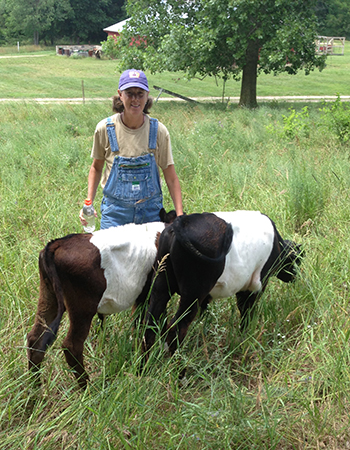 Program location
Our program is located on S. 25th St. near the intersection of Romence Rd. and Sprinkle Rd. Metro Connect bus service to our location is available. 
Check out the video below. Building friendships and interacting as peers is one goal of our program.