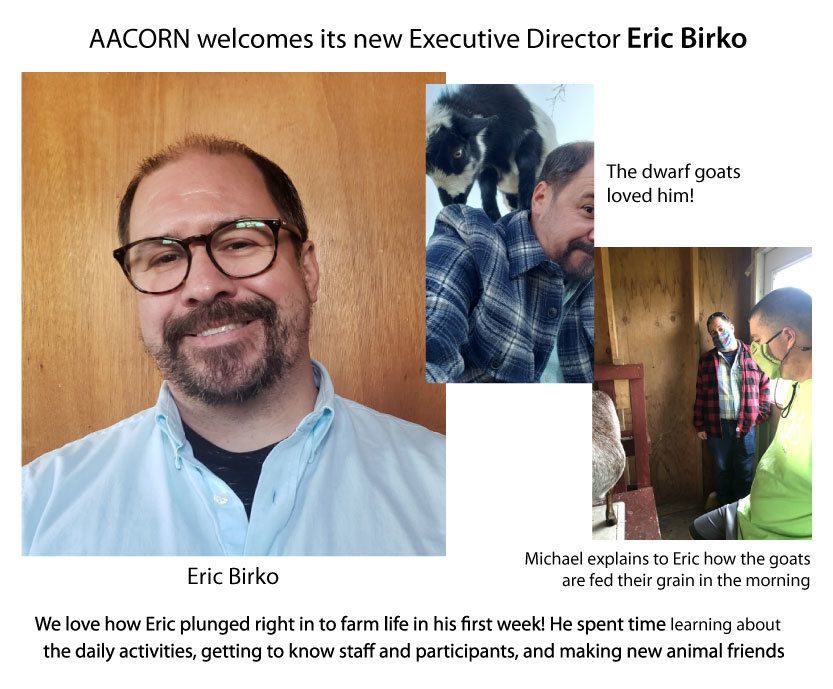 Eric comes to AACORN from StoryPoint Senior Living in Portage where he served as the Executive Director. Prior to that, he spent almost 10 years working as a Program Director for Community Living Options (CLO), a service provider agency for Kalamazoo County. Other work experiences include clinical work as a Recreation Therapist as well as leading a therapy team in a skilled nursing facility. Eric graduated from Central Michigan University with his bachelor's degree in Therapeutic Recreation.
Our new E.D. is a proud dad of 2 young ladies and is involved in their activities as a big part of his daily life. He and his wife Nikki have supported the schools building sets for the middle school musical and other volunteer opportunities. Eric serves as both a coach for AYSO and as the Safety Director for the Portage AYSO board.
When interviewed, Eric shared his intense passion for supporting persons with special needs. He related stories about his friends from CLO and how they have impacted his life which in turn brought him to AACORN. With his leadership background and experience with individuals with special needs, we are confident that Eric is a great fit for our organization.
---
Building Updates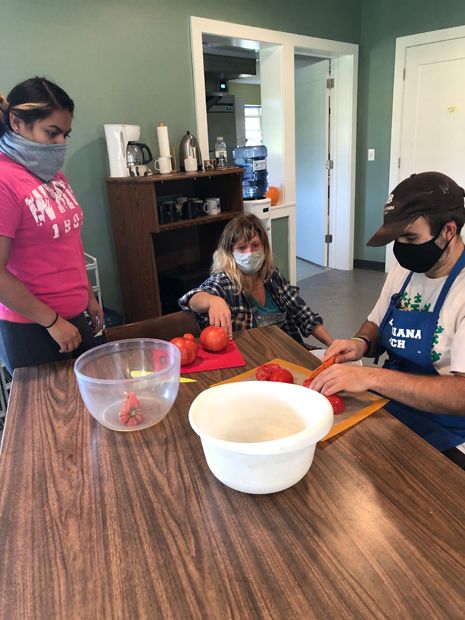 We are really enjoying the activities building! It's so convenient and we have been able to process garden produce in the commercial kitchen. Here is Sean cutting up tomatoes for salsa.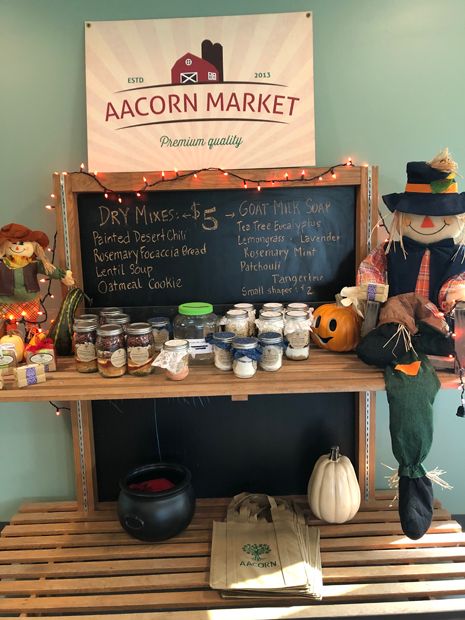 The AACORN Store is located just inside the community room, near the entry way. We're ready for fall!
---
Wishlist
AACORN is a non-profit 501(c)3 organization, and your gift will stay right here in Kalamazoo County to be used immediately to enhance the lives of adults with developmental disabilities in your community. We are dependent on donations, both large and small, in order to build a successful agricultural community for adults with developmental disabilities in Kalamazoo County. An endowment fund was recently created through the Kalamazoo Community Foundation (KZCF) by a generous donation from the Glen C and Gail G Smith Fund to support AACORN's long-term work. To contribute to this fund, please contact KZCF.
Here is a list of items we are in need of:
Tractor
Four Wheeler
Fencing and Fencing Posts
Residential Seed Money
Corn Crib with Garage Building
New Greenhouse
New Pick-up Truck
Riding Lawn Mower
Furnishings for Activities Building
File Sharing Platform
Web Hosting Platform
Emergency Generator
Air Compressor
Microscope
If you are able to donate, please contact Liz Farner at 269-998-0101. Financial donations are also welcome, if you are interested in donating, please visit AACORN Donations.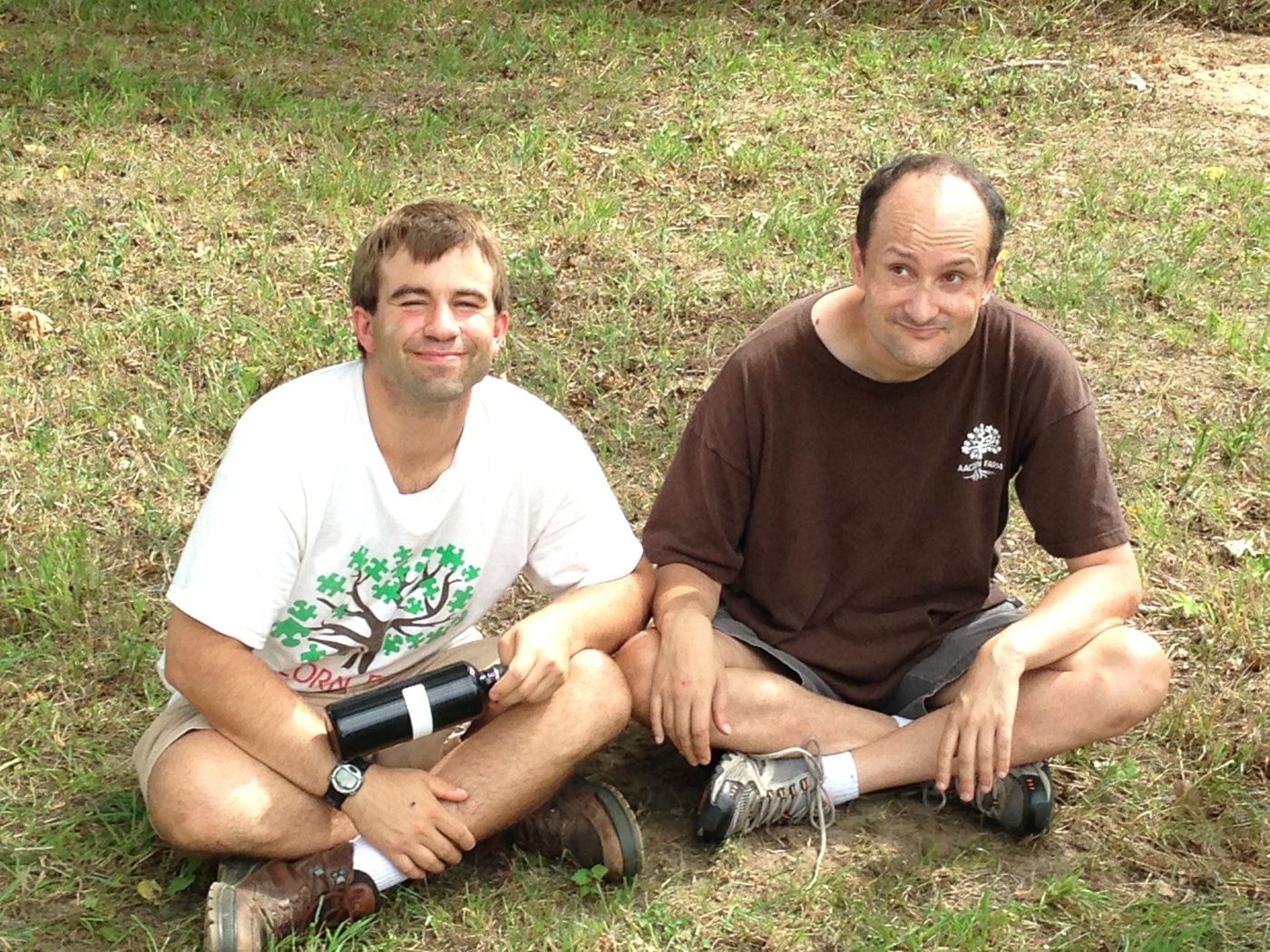 Building Community
We see young adults who have not had many social opportunities choosing to hang out together like other young adults enjoy doing. This helps to build community among our participants.
Thank you to these foundations for their generous support of AACORN'S operations and skill-building program:
The Irving S. Gilmore Foundation
The Harold and Grace Upjohn Foundation
Kalamazoo Community Foundation
The Dorothy U. Dalton Foundation
Battle Creek Community Foundation
Beim Foundation
The W.S. and Lois VanDalson Foundation
The Gary Sisters Foundation
Learn More About AACORN
Please complete the requested information and indicate your area of interest