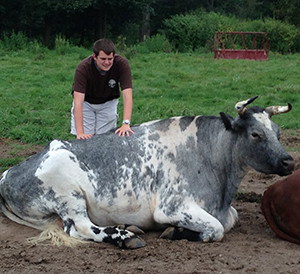 The mission of AACORN is to provide life enrichment opportunities and residential options for adults with developmental disabilities in a supportive inclusive community.
Our core values
• Promoting dignity and meaning in the lives of adults with developmental disabilities
• Cultivating a climate of mutual respect and understanding
• Encouraging fulfilling activities while building new skills
• Providing choices for those who receive few
• Supporting the development of peer relationships
• Making positive contributions to the community
• Respecting the environment
Our history
In 2011, parents of individuals with Autism Spectrum Disorder (ASD) formed AACORN. The group dreamed of appropriate housing, meaningful work and therapeutic activities for adults with ASD in Southwest Michigan. Driven by the need to serve adults no longer in the school system, a program was the first focus.
Dr. Liz Farner, who offered a rural experience for city children for several years, began working with an adult son of one of the founders. This connection drew her to AACORN, and she became the program director.
AACORN incorporated in 2011, and was awarded 501(c)3 tax-exempt status in 2013. In the summer of 2013, the program opened at Tillers International in Scotts, Michigan. It began with five young adults learning animal care, gardening, making arts and crafts, and participating in outdoor activities that emphasized fitness, teamwork, and positive responses to others.
Needing more indoor space, AACORN moved to moved to leased property in 2014. The program expanded to four days per week and grew to serve 15-20 adults. Also, classes from the KRESA young adult program began participating. Culinary activities, sewing, and making goat milk soap and other goat milk products were added to the curriculum. Participants began to connect to the community, by making regular deliveries of fresh eggs and hand-tied fleece blankets to Kalamazoo's YWCA. By 2015, AACORN added two additional full time staff, college interns and volunteers.